Crowdfunding your book - Bryony Thomas a success story
Crowdfunding is so much about the internet that it's refreshing to see it help more books get published
Bryony Thomas raised £5,000 on Please Fund Us  to fund the publication of her business book - Watertight Marketing - and an interactive website with tools and downloads for small business owners to use to put an effective marketing operation in place to support long-term growth.
The campaign had 87 backers with the most popular pledge being £25 (36 backers) when they received a PDF of part One and a 90 minute webinar. The book is now for sale on Amazon and has eleven 5* reviews.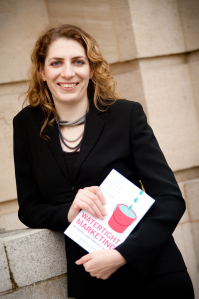 Why did you decide to crowdfund your book? Had you tried a publisher or self-publishing on Kindle?
I had decided on a cooperative publishing route following a few goes at the traditional publishers. I very nearly got there with one household name, but the compromises would have gone outside my comfort zone, so had decided to fund it myself to produce the book I had in mind. I'd been hiding under a baby and book-shaped rock for about a year, so hadn't actually heard of crowdfunding until my husband sent me a link to a Kickstarter project for a children's science book. That's what sparked the idea for crowdfunding Watertight Marketing. 
Why did you choose PleaseFund,us for your project?
Like many others, Kickstarter was the only crowdfunding platform I had heard of. But, when I did my project they were only operating in the USA. With a quick search, PleaseFund.Us seemed like the most established UK equivalent. Their case studies were compelling and they were really supportive in getting my pitch together.
How long did you take to plan your campaign? 
It took me about a month to get the campaign live. The most time-consuming element was getting the video produced… I had it professionally filmed and then had to spend hours listening to my own voice to edit it down!
How many hours a day/week did you spend on it?
During the 30-day campaign, I spent at least an hour per day on it. In the last 24 hours, in which I secured over 70% of my funding, I probably spent more than 10 hours. I had kept a last day special reward back for the final push, and it was a social media frenzy as I got down to the finish line with under an hour to go. 
Can you give us some details of the pledges
I secured 87 backers. Of these, 10 were completely unknown to me, and I'd count 10 of them as close friends. The rest were business or social media contacts with whom I previously had a loose connection. I had rewards at £1, £5, £25, £500 and £1000. I added a £15 on the last day. The majority of backers went for the £25 option, but the majority of the funds came from the £500 and £1000 rewards. These were taken up by people in business that I knew quite well, but had not previously worked for.
Was it successful in building a customer base and/or achieving more orders.
Books went out to all my backers, and they've been amongst the first people to leave reviews on Amazon. For book marketing, having this stalwart of early support is really important for getting the ball rolling. They have also been the most active in getting the word out in social media.
What are your top two tips for other crowdfunders?
Choose your pledge amounts carefully - people are more generous than you think.
Hold something back for the last 24-48 hours to keep the momentum going.
What would be the one mistake to avoid making
I would have booked more time out at the end of the process. I had to clear my diary at the last-minute as I hadn't anticipated the frenzy. 
If you want to find out about the book
Watertight Marketing; Delivering long-term sales results. Published by Panoma Press, RRP £14.99. Find the book on Amazon.  You can also contact Bryony on Facebook and  Twitter. There is a free chapter from the book available to download from the website.