Turning to the crowd for a business loan
Turning to the crowd
Lending directly to businesses involves risk including risk to your capital (see full risk warning at the end of this post)
Peer-to-peer lending in Britain was worth £1.7bn pounds in 2014 – with nearly half of it business lending. The peer-to-peer market contributed about 1% of total lending to small businesses but is growing by 200% a year.
Peer-to-business lending (crowd-lending) is growing each year. The drivers are people wanting a better return on their money than the low-interest rates offered by the banks and building societies, and businesses who turn to alternative lending to raise finance.
The government is keen to encourage the Peer-to-Peer market, not just to help savers, but to help businesses borrow money without having to go to a bank. Banks are being asked to refer businesses they turn down to alternative providers and there are plans for peer loans to be tax free in an ISA.
Funding Circle, which launched in 2010, is now the fourth-largest net lender to small businesses in Britain and has so far enabled more than 7,000 businesses to borrow £490m. RBS is partnering with Funding Circle and Asstez Capital. Santander has a partnership with Funding Circle as well.
"These figures demonstrate the growing impact peer-to-peer lending is having on the market," said Christine Farnish, chair of the Peer-to-Peer Finance Association.
There are benefits for lenders too. Interest rates can be more competitive than those offered by the banks. "Typically, they start from 6%, depending on the quality of the business," says Nick Moules from Rebuilding Society. But there is also the potential for interest rates to be higher, too – the higher the risk of default, the higher the rate. "We're currently seeing P2P interest rates settling between 9% and 13%," says David Griffiths, from Sterling Capital Reserve, "but 15% isn't uncommon".  There are also plans for an ISA to cover peer lending.
There are risks to lenders of course including bad debts and you are not covered by the FSCA no compensation scheme. Read Martin Lewis's guide to peer lending on his MoneySavingExpert site.
An example of a small business that has turned to the crowd
Paul and Eleanor Knowles took over running the Glen Rothay Hotel and Badger Bar in May 2014 and are making lots of little changes, trying to bring out the best in this fine old building. Paul runs the day-to-day operations of the business whilst Eleanor is a full-time primary teacher.
Why Crowdfunding
Paul and Eleanor have found traditional banks to be too rigid in their lending criteria. Paul says "Crowdfunding is more flexible and suits our needs better". So they are turning to crowdfunding to raise the money to invest in upgrading the rooms.  Their proposal to borrow £40,000 from the crowd has just launched on the Crowd2Fund platform.
The Glen Rothay Hotel and Badger Bar is a landmark property in a prime Lake District position. It is both a traditional Inn, dating to 1624, and a small country hotel, and in addition has a holiday cottage in the grounds. It is close to Rydal lake and several famous walks start from the doorstep. 
Paul says "We are happy to pay a high rate of interest, because we know that each pound of investment now will generate about four times as much in income in the following year. Investors have a very low risk outlay, and have the rewards of seeing an iconic lake district business thrive with their help. We are willing to give investors discounts or incentives to help evangelise!"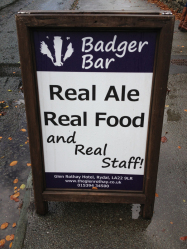 Have a look at the hotel on TripAdvisor and have a look at their campaign on Crowd2Fund.
———
The risks of investment - debt or equity through crowdfunding
Loss of capital: You may lose your investment: if a business fails, neither the company nor the crowdfunding platform will repay your capital. You should only make investments with money you can afford to lose. Early-stage companies and start-ups are statistically more likely to fail. Indeed, most do.
If you wish to take less risk, consider investing in more mature businesses with good credit and dividend histories.
Build a diversified portfolio This is critical. Diversifying spreads your risk across multiple businesses and funding campaigns. Uniquely, Crowd2Fund offers five different crowdfunding methods. This allows you to carefully build a portfolio attuned to the level of risk you're comfortable with.
Past and forecast performance Past performance should not be seen as an indication of future performance. Likewise, any future predictions or forecasts provided by companies are not guaranteed and should not be seen as an indication of future performance.
FSCS You will not be eligible to claim compensation under the Financial Services Compensation Scheme (FSCS) for losses incurred from investments of any type made through the crowdfunding platform.