Making a viral video - tips from and expert
Something out of nothing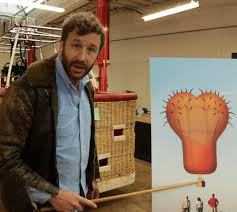 Male Cancer Awareness Campaign - a young and innovative charity which aims to educate men and their partners the importance of early detection and hopes to build a culture where embarrassment does not prevent them from addressing problems with intimate parts of their bodies.
Patrick spoke at a recent Manchester Lunch Works session sponsored by  Dovetail and Reason Digital.
Virals are good to share - people share something funny
One of the first viral videos on YouTube in 2005
Patrick shared the story of one of the first viral videos. An original video of a boy who had been bullied (and was bullied more after the video went viral) changed into Star Wars Kid with the involvement George Lucas. 
Patrick's Golden Rules for making viral videos
1. Be inspired
Take what's out there and use it. Bearing in mind their target audience MCAC team like adverts Southern Comfort, Man Crisps and the Dollar Shave Club.
2. Work with people who inspire you
Patrick mentioned their partners in their current and future videos campaign: Cameron Balloons, 
3. Network, network, network
Like crowdfunding you need to prepare the ground, call in favours, email everyone!
4. Question - does it deserve to exist 
If it doesn't - don't waste your time (MCAC likes the new Apple advert)

A viral video needs to be
Clever

Have the Wow factor

Be original and brilliant - MCAC's rule breaker (remember their target audience of young men) Rhian

Touches Herself

and

Chris O'Dowd again as Lars Larson in The Best Job in the World

(partners were

Coppafeel

the female breast cancer awareness campaign)

Launched at the right time - awareness week or day - don't launch around Comic Relief or Children in Needs 

Planned properly - be prepared for hard work - can't just put up the video and expect  it to get 1m hits
MCAC is crowdfunding
MCAC's latest video is a crowdfunding campaign too. It took 16 months to out together with their brilliant comic ambassador Chris O'Dowd (@BigBoyler). It's £100k awareness raising campaign - have a look at Chris's video and Skyballs their crowdfunding page . You'll never think of hot air balloons in the same light.