Helen Lederer is (celebrity) crowdfunding!
Helen Lederer, the Welsh comedian, writer and actress has joined the growing list of celebrities who are crowdfunding.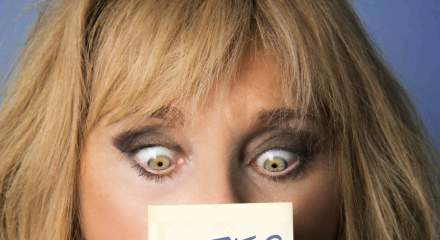 Crowdfunding started as a way for independent, mostly unknown artists to appeal directly to the public to fund their film, music or creative project but now a growing number of established celebrities are turning to crowd-funding for their next projects.
There's an inevitable backlash. John Trigonis writes on the website Daily Crowdsource that stars are "saturating the pool with their somewhat unfair advantage - celebrity."
Spike Lee raised £1,418,910 on Kickstarter answering criticism of going to the supposedly rich and famous asking their fans to pay for their next venture by saying "I'm an Indie Filmmaker and I will always be an Indie Filmmaker. Indie Filmmakers are always in search of financing because their work, their vision sometimes does not coincide with Studio Pictures. But I do put my own money in my films".
Closer to home George Galloway M.P. raised £163,891 on Kickstarter for his documentary The Killing of Tony Blair.
They join other celebrities such as, Zach Braff and "Veronica Mars" creator Rob Thomas, putting themselves on the line. It can go wrong - James Franco did not hit his $500k target but kept the $327,629 he did raise on his flexible funding campaign.
The celebrities argue that just because they are famous it doesn't mean it's easy to get a project financed the traditional way. And, it's also about engagement – fans can fund and be part of the project. It seems the fans agree with this.
Also, all crowdfunders emphasise their previous successes and track record – it's all a matter of degree.
Helen isn't trying to raise anything like the amounts above but £10,000 to produce two live performances of Why the Fuss?! Her one-woman pop-up event will be held at the St James Theatre in London. Her stretch target is £25,000 to produce a pilot for television.
I've always liked Helen's work – so was keen to ask her a few questions about her campaign.
In a sentence Helen - what's the story?
I am crowdfunding on BloomVC.com, to cover the production and publicity costs of my new comedy show "Why The Fuss?!". I'm aiming big, with a target of £10,000 in 10 days.
Why are you crowdfunding the £10k?
I want to be able to offer my particular kind of stand-up comedy on-stage, to a live audience, with eminent, top quality guests and a lovely six-piece band. While running things all on my own means there is no "Big Producer" being bossy or taking a cut, I still need to raise the finances to throw a proper comedy extravaganza. At the point of going it alone, I could have chosen to either bail out or to push forwards. And - I've chosen to push for the big-time.
Apart from the money - what else do you hope from the campaign?
I want people to have a bloody good night at my shows, and to entertain them! That's what my comedy is all about. Also, if I can generate support in excess of my £10,000 target, I will see (fingers crossed!) if I can produce a pilot TV programme. This would really take "Why The Fuss?!" to another level. 
Is it so hard for middle-aged women to get on TV? (Rant allowed!)
At 59, I think I fall into an awkward age: I'm too old for Hugh Hefner, and too young for Harry Styles. Seriously though, I really feel that middle-aged comedy needs both a face and an audience, and I am happy to be the comedian who pioneers its location.
TV is lacking missing a warm, engaging style of comedy that combines both high brow and low brow entertainment. My comedy is different from the laddish posturing that we see quite a lot of on telly at the moment. I think I can provide something new, and that audiences would love it if I just had the chance to get the show out there.
The shows are in London - what's in it for the North?
Well, although I am giving away tickets to my "Why The Fuss?!" shows at the St. James Theatre, I am also offering rewards that would be just as applicable to anyone in the UK or internationally. I know that crowdfunding operates via kindness and generosity, but I wouldn't ask people to promise funds for nothing!
Funders could receive cases of wine, a signed Ab Fab script and DVD box set, or I have even offered to host a dinner or event for £1000 funders. I love working up North, and will travel!
And, obviously, if the crowd and I are able to pull off a "Why The Fuss?!" TV series, audiences across the UK will be able to tune in.
Please can I have a joke?
How many crowdfunders does it take to change a light-bulb?
None. You have to leave something for the banks to think they're good at.
So support Helen's campaign here and see her show, meet her, become a producer or even have dinner! For £50 you receive two ticket and meet Helen. If you can afford £1,000 she'll come to your event – but only within the M25 radius.
And here I have a problem with the lovely Helen's campaign. I love the idea of the show and have no problem with anyone crowdfunding. But the campaign is not cause or value based. It is around two live shows - in London. So you have to be a true friend or real fan of Helen who lives outside of London to back the project. For £1,000 a trip up North to run a charity event should be possible. There's a lively discussion going on celebrity crowdfunding on this forum.
There are a few other issues with Helen's campaign planning. When I run my training for crowdfunding I stress that you should launch with at least 20% pledged from your close social networks; update frequently; get plenty of press coverage and link to your campaign from your website.
But if you live in London and can make either of the two shows and want a good night out you can't go far wrong in backing Helen.
Crowdfunding Workshops Autumn 2013