Crowdfunding the Titanic
A century after Titanic sank, her story still fascinates us
The RMS Titanic, the largest ship afloat at the time, sank on her maiden voyage from Southampton to New York 15 April 1912 after hitting an iceberg. She carried over 2,200 passengers, both rich and poor. 1,514 people died. She has remained one of the most famous ships in history.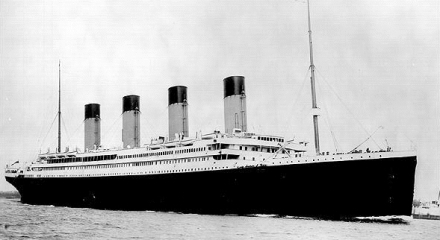 One of my claims to fame (the criteria for such claims must be very tenuous and/or convoluted to someone famous) is that and ex-boyfriend of a friend of mine once carved the headstone of the grandson of the Captain of the Californian who (allegedly) ignored the Titanic's distress signal.
A little known story is that stewardess Violet Jessop, who survived the sinking of the Titanic, survived the sinking of her sister ship the Britannic in 1916. She had also been aboard the third sister ship the Olympic when it hit another ship in 1910 (but did not sink) . Please if anyone has any (preferably convoluted) connection to this lady please let me know!
In this centenary year there are two crowdfunding campaigns focusing on the story of the passengers.
Titanic and Me is crowdfunding on Unbound
The BBC commissioned "Titanic with Len Goodman", a documentary which explores how the impact of the disaster was felt not just at sea, but on land, and for generations. Unbound are now teaming up with the producers and researchers of this series to produce a book to compliment the documentary - Titanic and Me. unbound allows donors to connect with writers as they write stories - through their shed. They also receive copies if the target is met and the book published.
Heaven's Gate on Sponsume is about the experiences of three passengers aboard the Titanic - will they live or die. The audience will decide. Quids In Theatre want to take it to all 7 cities and the Edinburgh Fringe. For £10 include a mention on the website and priority booking. £100 and you get your name in the programme, tickets or an advert.
So - if you are interested in all things Titanic this is one way to ensure there are more!
Successful crowdfunded projects on the Titanic
Titanic by Cock and Bull

which raised $6,805 of a $6,525 target from 93 backers on Kickstarter

Titanic Tiles

by Justin Zimmerman raised $335 of a $1 goal to produce decorative tiles inspired by floor tiles used in the second class state rooms. The rewards tier started at $40.

Thomas is Titanic

a one man show raised $1,709 of a $1,500 goal on Kickstarter. The minimum pledge of $15 got you a ticket to the show.
Some unsuccessful campaigns
Maud and Mary and the Titanic

raised only $905 of a $5,800 goal on IndieGoGo

Moore's Code

a film about an amateur radio enthusiast who received the Titanic';s distress signal in his attic room in south Wales. In spite of this interesting 

true story

 it raised only $45 of a $3,000 goal.